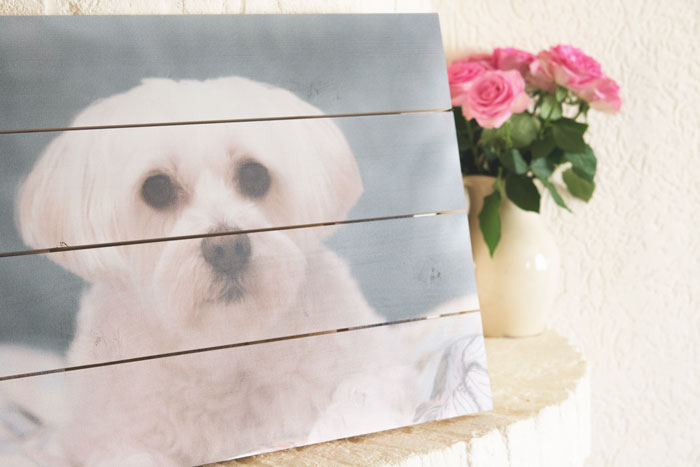 The title makes it already clear, but the picture on wood is my dog, Nikkie. I've doubted if I would choose a holiday picture or one of my favorite photography pictures, but my dog is very special to me, my best friend and I see her as my 'service dog.'
I've received this product from a company in the Netherlands, so if you are from the Netherlands check the Dutch version, if you are from another country I'm sure there is a company in your country who will sell this. I've chosen wood, because I always loved the wood texture more, it makes it look more vintage and it gives more warmth to your interior at least that's my opinion.
This is the original picture of my dog! I didn't change anything about it, this is how I've sent it to let it print. I love it even more on wood than digital!
Like I said the dog on the picture is Nikkie and she is my best friend and 'service dog.' She is not official a service dog, but I also wouldn't want that for her. She is already 11 years old and I wouldn't like to have to make a service dog of her at the last years of her life, but she feels like my service dog, because I got her in a time I had it rough and felt lonely. After that she helped me that there was always someone at home, because of my illness I'm mostly at home. She is my best friend, she is very friendly, she always makes me laugh and I couldn't wish for a better dog than her! So that's why I've chosen to print her on wood.
Oh I really think it's breathtaking beautiful. I always expected it to be beautiful, but not this beautiful! So I'm gonna find a good spot in my home!
* (€) This review contain products that have been sent by a brand or company. Read my disclaimer.